So one of my friends gave me this gLCD a couple days ago.
I'ts a PG12641D (REV:B) from DATA IMAGE.
I searched google for a datasheet but didn't seem to find any.
While searching for a datasheet I came across this two webpages:
http://www.8051projects.net/lofiversion ... lease.html
http://blog.naver.com/PostView.nhn?blog ... listtype=0
In the first webpage you can see this image:
And two or three messages after that image someone said that the gLCD is a 128x64 gLCD with a KS0108B controller.
In the second webpage (Korean) you can see this image: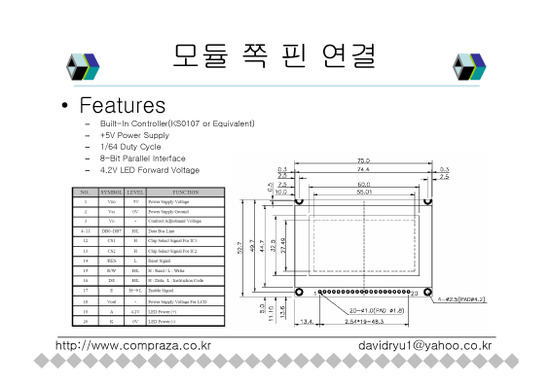 You can (or can't) read "Built-in controller KS0107 or equivalent".
Now my question are:
- How can I see if this gLCD has a KS0107 controller (or equivalent) or KS0108B ? (I suppose I can't because the chip is under that black thing that protects the chip)
- Are there any "big" differences between a KS0107 controller and a KS0108B controller ?
- Has anyone got a working program for a gLCD (128x64) with a KS0107 (or equivalent) and/or KS0108B controller ?
Thanks,
Nicolas